STROOP Voice Enabled
The study was carried out in the Department of Nuclear Medicine in the Franciszek Łukaszczyk Oncology Centre in Bydgoszcz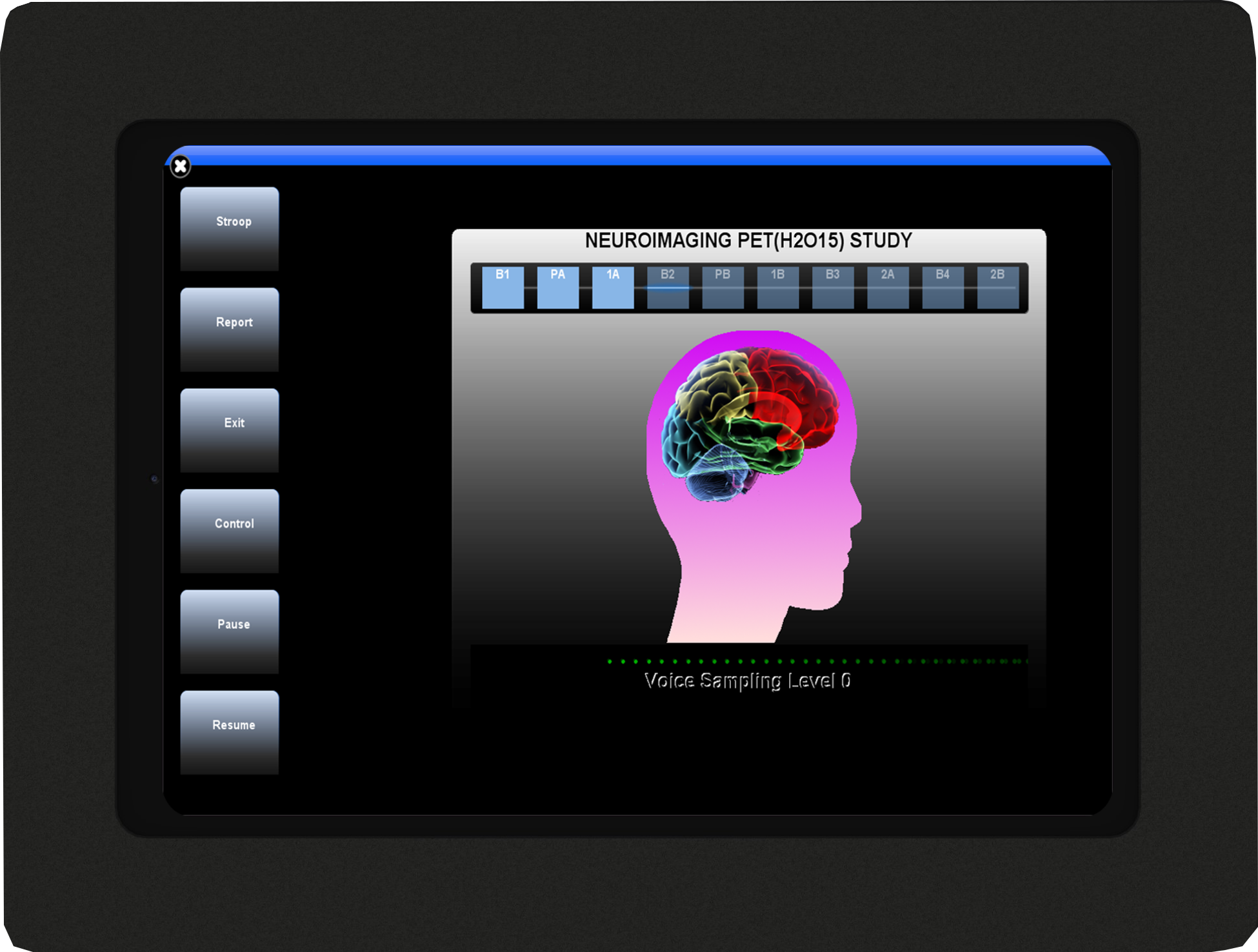 Introduction
This test is based on the Stroop Effect found by John Ridley Stroop in the 1930's. In a typical experiment that uses Stroop stimuli (Stroop, 1935), participants make a speeded response to the colour of a word. The relationship between the colour and meaning is manipulated so that they can be congruent (e.g., the word RED written in red ink), incongruent (e.g., the word GREEN written in red ink), or neutral (e.g., the word SHOE written in red ink).
Skills that are highly practiced become highly automatized i.e. they are performed automatically with little or no mental effort like in the case of reading. In the Stroop Task the automatized behavior (reading) is in conflict with the desired response (naming the color). The Subject has to inhibit/suppress the automatic response of reading and name the color the word is written in. Thus it takes longer.
The Stroop is one of the most commonly used tools for determining attentional problems. It is also a test of Executive Function and Working Memory.
Test description:
Study participants lay motionless in a PET scanner (Biograph mCT 128) with a blocked head under darkened conditions and completed the computer version of the Stroop task, which was adjusted for PET examination procedures.
The task consisted of three parts.
The resting part required focusing the eyes on a white cross displayed on a black background.

The next two parts consisted of 36 words denoting colours, written in the colour congruent with the meaning of the word (non-interferential part A), or written in a colour incongruent with the meaning of the word (interferential part B).

The testing procedure was based on the repeated measurement method; therefore, it consisted of a total of eight scans (R-A-R-B-R-2A-R-2B): four times at rest (R), two times during the performance of the non-interferential part of the Stroop task (A), and two times during the performance of the interferential part of the Stroop task (B).

The subsequent parts of the test were separated by ten-minute breaks.

Each subsequent part of the test was connected with the intravenous administration of the H2O15 marker at a dose of 350-500 MBq in the form of a bolus.

Fifteen seconds after the administration of the isotope, the scanning process started.

This process lasted for another 60 seconds, during which participants performed a specific part of the cognitive task.

The whole procedure was preceded by a CT examination (low dose) to correct the attenuation.
Publications
Anita Markowska, phd, Department of Psychiatric Nursing, CM, Nicolaus Copernicus Universityin Toruń, Poland
BRAIN ACTIVITY RELATED TO THE CONGRUENT AND INCONGRUENT PART OF THE STROOP TEST PERFORMANCE-NOT ONLY DIFFERENCES BUT ALSO SIMILARITIES IN THE BRAIN ACTIVITY PATTERN A NEUROIMAGING PETH2O15 STUDY

Read Information

STATISTICAL PARAMETRIC MAPS IN IDENTIFICATION OF REGIONAL CEREBRAL ACTIVITY IN PET STUDY

Read Information

The cognitive interference-related brain activity during Stroop task performance-H2O15 PET study-initial results

read Information